LANDACRE, Paul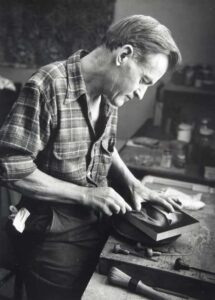 Paul Landacre was a master wood engraver with a singular technique and a modern, precisionist approach.  During his lifetime, he was considered by art critics and artists, such as Rockwell Kent, as the finest American wood engraver of his time, and this view endures today.  Enchanted by southern California landscape, flora and fauna, the artist is most renowned for depicting the rolling hills, deserts, beaches, and dramatic fires and storms around Los Angeles.
Born in 1893 in Columbus, Ohio, Landacre attended Ohio State University, where he was an aspiring athlete and botanist. Hit by a debilitating illness, he moved to southern California in 1916 to convalesce and pursue a less strenuous profession.  Several years later, he attended classes at the Otis Art Institute in Los Angeles.  He taught himself the exacting technique of wood engraving, which was experiencing an international revival of interest as an artistic medium, but was not a subject taught in L.A. art schools. His first important exhibition was held in Los Angeles in 1930 at the Zeitlin bookstore, which represented him and his estate for fifty years and introduced him to a wide circle of local artists, actors, intellectuals and literary talents.
The artist's early wood engravings were composed with sweeping, parallel lines to describe the sensuous curves of a hillside or a nude figure.  By the early to mid- 1930s, he had refined his technique to a highly personal method of precise, meticulous cutting and fine crosshatching.  Progressing even further beyond traditional woodcutting methods and towards greater abstraction, he used a multitude of different strokes of the burin to create sinuous lines and subtle textures and patterns.  The striking clarity and beauty of his compositions, which contrast brilliant whites with velvety deep blacks, endowed his prints with a modernity that was unusual in other American or European wood engravings of the period.
Landacre's sales of wood engravings were supplemented by commercial work in book illustration, but the Depression years created financial hardships.  A small group of generous friends organized the Paul Landacre Association, and subscribers paid $100 per year to receive a new Landacre print each month.  During a three-year period, these collectors received such treasures as The Press, Counterpoint, The Shell and Hill.
Landacre intended the editions of many of his early prints to be 50 or 60, and occasionally, when there was popular demand for a particular print, he began a second edition. But due to the demanding task of printing, his editions were usually incomplete; moreover, he customarily signed his prints only upon a sale.  Impressions remaining in his studio after his untimely death in 1963, sometimes unsigned, bear an estate stamp of a petrel cypher and on the verso, a stamp of Origins of Art, the gallery that inventoried the estate.  Apart from a few larger published editions, he pulled all of his wood engravings on a 19thcentury Washington Hand Press, which he restored after it was found in an abandoned newspaper office. He preferred a soft, fibrous, white or thin beige Japanese paper, which better absorbed the thick black ink.
Landacre's prints are represented in the collections of most major museums, including the Smithsonian American Art Museum, New York Museum of Modern Art, Philadelphia Museum of Art, Los Angeles County Museum of Art, Boston Museum of Fine Arts, and the Achenbach Foundation of Graphic Arts.   Anthony Lehman's biography, entitled Paul Landacre: A Life and a Legacy, was published in 1983.