WHISTLER, James Abbott McNeill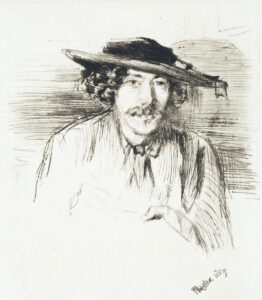 Although most known for his painting, James Abbott McNeill Whistler was a major figure in 19th century printmaking, producing over 490 etchings and drypoints.  His etching style was particularly precise and skillfully executed, drawing on his formal training and experience as a topographical draftsman.
"Produced from 1878 through the late 1890s, Whistler's experiments pushed both the methods and the vocabulary of lithography in new directions. Technically, Whistler worked with his printers to develop and expand the process in a number of ways. Perhaps most notably, they advanced the development of the lithotint, a method characterized by inks appearing as dilute washes, layered one over the other in veils of faint tones. While Whistler did produce a small number of colored lithographs, his black and white compositions, too, evoke a mysterious sense of color through these gentle variations and layers of ink. This delicate manipulation of line and apparent color spoke directly to a grander movement in Whistler's art, toward increased atmosphere and mood, and toward more abstracted forms and vaguely poetic arrangements. Created at the dawn of modernism, these lyrical compositions represent not only Whistler's most original and personal visual expressions, but also critical precursors to twentieth-century non-representational art." (Jack S. Blanton Museum of Art)
Whistler invented a monogram signature—a stylized butterfly based on his initials—and always placed it deliberately as a compositional element, not just a maker's mark. He became a central figure in the Aesthetic movement, which was founded on the philosophy of "art for art's sake" and emphasized artistic principles, elevated taste, and creative eclecticism in the conception and production of furniture, metalwork, ceramics and glass, textiles and wallpaper, and other objects.