GEERLINGS, Gerald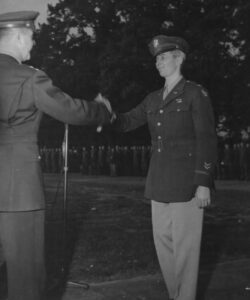 Gerald K. Geerlings, known for his early-20th century architectural etchings, aquatints, and intaglio prints depicting the rise of American cities and urbanization during the interwar period.
Geerlings was born in Milwaukee, Wisconsin on April 18, 1897 and, as a young man worked as an architectural draftsman and attending art school. After serving in WWI in 1917-18 he entered the School of Architecture at the University of Pennsylvania, earning an M.A. Geerlings went to work for the architectural firm of York & Sawyer in N.Y., along with the etcher/architect Louis C. Rosenberg.
After establishing his own architectural practice he began his printmaking, a lithograph with George Miller in 1926 and studying etching at the Royal College of Art in London in 1932. He was a widely published author on architecture throughout the rest of his life. His printmaking was limited to two periods, 1926-33 and again after 1975.
During WWII Geerlings did pioneering work with the U.S. Air Corps on aerial perspective drawings and maps, developing the Target Identification Unit for the Air Force. After the war he continued as a consultant to the SAC and returned to his architecture as well as doing a series of lithographs into the 1980's. One series, Siren on the Sea features the featuring the lower New York skyline and the World Trade Center twin towers, each lithograph colored uniquely with pastel to reflect different times of day.
Gerald Geerlings died on January 25, 1998 in New Canaan, Connecticut at age 101.