HOPPER, Edward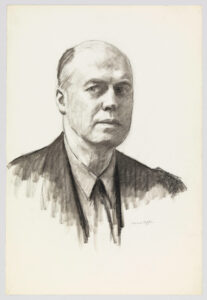 Edward Hopper's earliest artistic success came by way of his watercolors and etchings, rather than the oil paintings for which he is now best known. Lacking buyers for his canvases, Hopper reluctantly worked as a commercial illustrator. In 1915 he discovered etching, a medium that made economic sense (multiple prints could be sold of a single image) and also permitted the artistic freedom he craved. Hopper's etchings signal themes the artist would explore throughout his career: isolated figures, empty streets, strong contrasts between light and shadow, and the play of sunlight on architecture.
Although Hopper's etchings are primarily drawn from urban subjects, he chose watercolor to depict his early small-town or rural images. Encouraged by his fellow art student and future wife Josephine (Jo) Nivison, Hopper began using watercolor in earnest when summering in Gloucester, Massachusetts, in the early 1920s. The portability of the medium allowed Hopper to paint outdoors, where he favored local architecture to the picturesque coastal scenes that had made the region a popular artists' colony. His depictions of New England garnered Hopper important recognition: in 1923 his first sale to a public institution (the Brooklyn Museum's purchase of The Mansard Roof) and in 1924 a solo exhibition at Frank Rehn's Fifth Avenue gallery that sold out quickly. Critics admired his deft handling of the medium, straightforward style, and ability to transform vernacular architecture into something beautiful. [National Gallery of Art]
We are pleased to offer Edward Hopper's etchings and drypoints for sale. His work has been acquired by such institutions as the Art Institute of Chicago, the Metropolitan Museum of Art, the Carnegie Museum of Art, and the Museum of Modern Art.