ARMS, John Taylor
Scroll down to see currently available prints.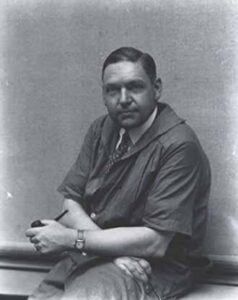 John Taylor Arms, an American artist, was born in Washington, DC. He studied architecture at the Massachusetts Institute of Technology, Boston, graduating in 1912. After World War I, he devoted himself full-time to etching, the printing process that relies on acid to "bite" out an image drawn on a metal plate.
From his early interest in sketching, Arms developed a successful career as a graphic artist in the 1920s and 1930s. He specialized in etchings of medieval churches and cathedrals, hoping to convey the glory of earlier ages that endured in Europe's architecture. Arms made several trips to France, Spain, and Italy to draw such buildings. Beginning with studies of architectural details, he later rendered entire facades and finally a great number of buildings and their reflections in water, as in The Grand Canal. In addition to his medieval subjects, Arms made a series of prints of American cities.
[This is an excerpt from the interactive companion program to the videodisc American Art from the National Gallery of Art. Produced by the Department of Education Resources, this teaching resource is one of the Gallery's free-loan educational programs.] ref.
No products were found matching your selection.